Bread & Roses Jacket ⁠— 12 oz. Cone Mills Selvedge Denim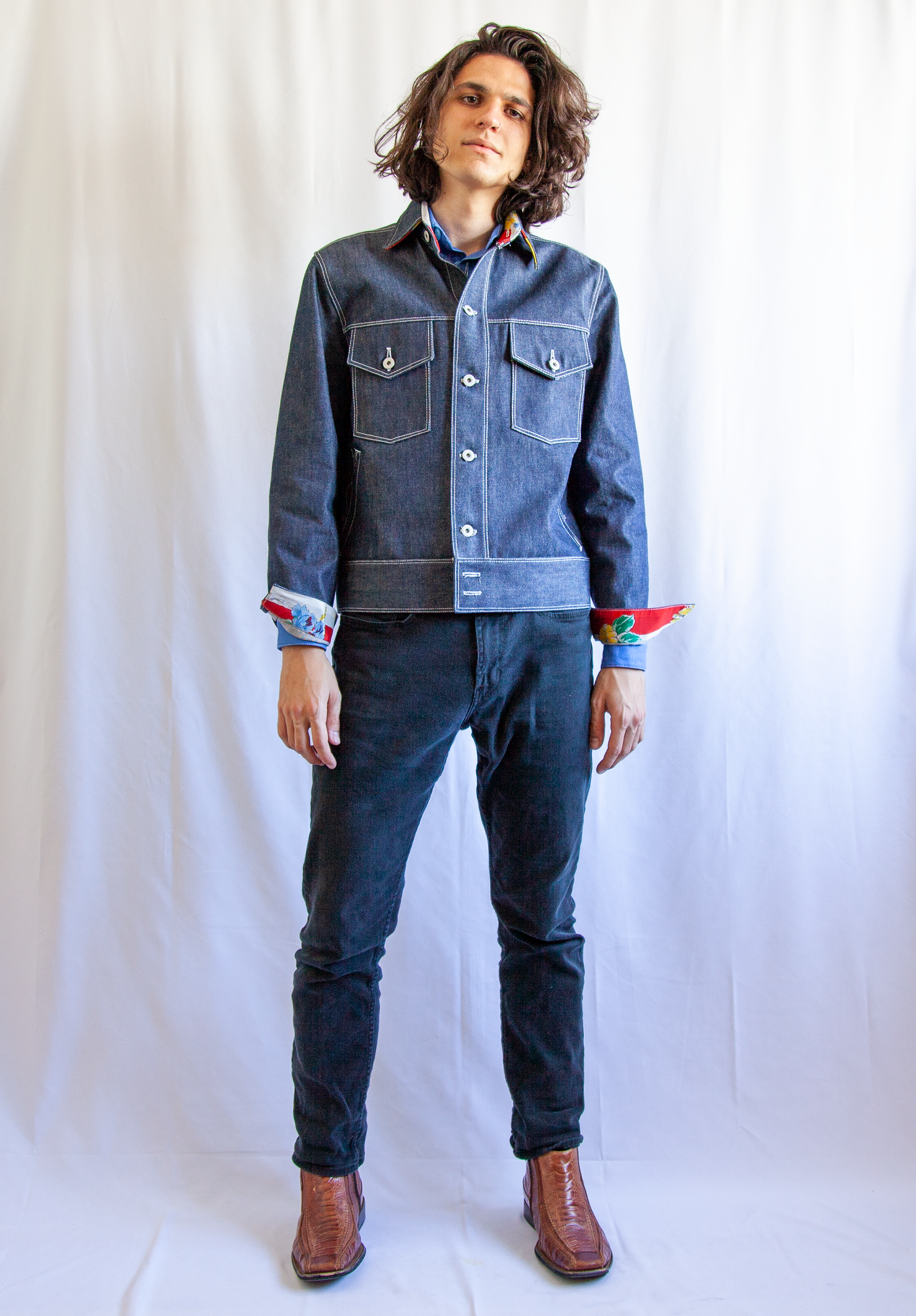 Bread & Roses Jacket ⁠— 12 oz. Cone Mills Selvedge Denim
Named for the 'Bread & Roses' strike of 1912, Slow Process is elevating the classic denim jacket—the 'bread'—with beautiful vintage silk & satin accents—the "roses."
The jacket uses 12 oz. raw "Loomstate" selvedge denim from Cone Mills' legendary (and now closed) White Oak plant. Located in Greensboro, NC, White Oak was the last selvedge denim mill in America, making this some of the mill's last denim ever made. This historical denim is a perfect medium weight with the unusual feature of two different selvedge widths. With a vintage cut, these jackets are gorgeous, full of character, and a true tribute to workers and workwear, alike. See size chart and care instructions below.
Raymond is 6'1 and is wearing a Medium.
First run is limited to 10 jackets. Custom accent selection is available (select 'Add to Cart' to choose). Production is estimated to take 4-5 weeks.
12 oz. 'Loomstate*' selvedge denim (Cone Mills' White Oak plant, Greensboro, NC)

Tapered, slightly cropped cut

Selvedge details throughout (two different widths)

Vintage silk accents under collar, inner neck, and inner cuffs

Single-needle construction

Side hand pockets with whipstitch detailing

Two interior wallet pockets

Hand-hammered Japanese 'One-star' buttons

Handmade in Burlington, VT
ABOUT "LOOMSTATE"/UNSANFORIZED DENIM
'Loomstate' denim is a more natural raw denim that has not undergone a shrinking or 'sanforization' process after weaving. Sometimes called 'shrink-to-fit' denim, this means that washing or soaking your jacket can shrink it by 1-2 sizes. Therefore, Slow Process strongly discourages washing or soaking your denim jacket, especially with the addition of vintage silk accents. For care, spot clean with a cold damp cloth, and let the jacket age naturally.